Throughout his adult life Donald John Trump kept lawyers busy protecting him from lawsuits. Most of his many legal actions have been settled out of court. Money laundering in his casinos forced him to "work for" the New Jersey Gaming Commission to avoid incarceration in a state or federal prison. This is commonplace in right-wing politics. Trump, a large number of his close associates, former appointees, personal friends, and members of the Trump Party including Jim Jordan, Devin Nunes, Moscow Mitch McConnell, and many others have been challenged in the court system for multiple violations against the people of various states and the citizens of the United States of America.
This week the man who has kissed Trump's humongous derriere more than any other human, Sean Hannity, reversed the process. He has threatened to file a lawsuit charging slander. He and his attorney are demanding an apology and a retraction of articles published in the New York Times denouncing Hannity for misinformation related to the coronavirus pandemic. For the last four months Hannity has echoed Trump's fallacious statements about the virus which have resulted in tens-of-thousands of American deaths. One of the attorneys representing the New York Times responded and revealed their message to the people in a tweet.
New York Times newsroom lawyer David McCraw delivers this response to @seanhannity request for retraction and apology related to @nytimes coverage: "No."  Addressed to Hannity lawyer Charles Harder: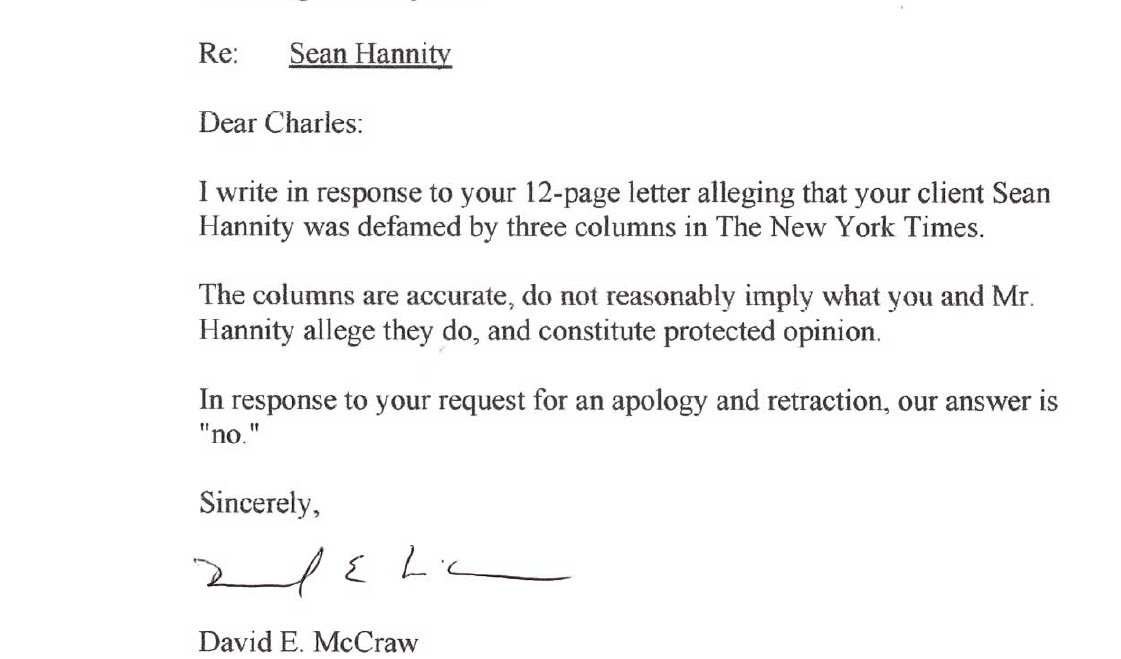 Hannity is another paid liar who cares about himself and not the future or the country which gave him an opportunity no other nation would have.
Hannity is not a journalist, a legitimate television "reporter," or anything else which would qualify him to offer opinions on his pitiful broadcast. Like Trump, his lies to his ignorant viewers have cost lives.
Fox began dividing the American people in 1986. This fake-news station is one of the primary reasons our nation is in distress today. Without the lies and misinformation offered by Fox over the last 34 years, Trump would not be soiling the White House sheets today.
Op-ed by James Turnage
Image courtesy of DonkeyHotey
My novels are available on Amazon